Osama bin Laden death: The conspiracy theories
Decision not to release photographs of Bin Laden's corpse has prompted an avalanche of conspiracy theories
Patrick Kingsley and Sam Jones
guardian.co.uk,
5 May 2011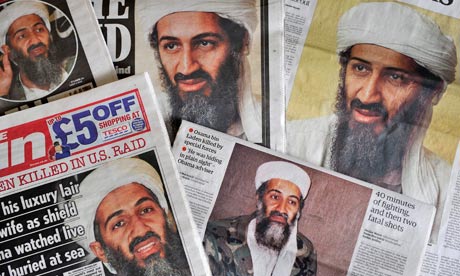 Osama bin Laden's death has prompted a host of conspiracy theories.
Photograph: Andy Rain/EPA
The decision not to release photographs of Osama bin Laden's corpse and the way the White House has changed its account of how he died has prompted an avalanche of conspiracy theories about his death. Perhaps unsurprisingly, these theories have proliferated across the web. Here are just a few.
• Bin Laden was a US agent, and was killed to stop this becoming public knowledge. "The west has been very pleased with Bin Laden's operations in recent years," said Javad Jahangirzadeh, a member of the Iranian security and foreign policy committee. "Now the west was forced to kill him in order to prevent a possible leak of information he had, information more precious than gold."
Source: Javad Jahangirzadeh
• His body had been frozen for several years, claimed US talkshow host Alex Jones, and was kept on ice by American officials for use as a potential propaganda tool. Jones said he was told by an unnamed White House official in 2002 that Bin Laden was "frozen – literally frozen – and that he would be rolled out in the future at some date".
Source: The Alex Jones Show
• The US pretended he was killed in Pakistan as a pretext to invade the country. "Bin Laden has been killed somewhere else," one former military source allegedly told Ausaf, the Urdu daily. "But since the US intends to extend the Afghan war into Pakistan, and accuse Pakistan, and obtain a permit for its military's entry into the country, it has devised the [assassination] scenario."
Source: Ausaf
• Al-Qaida's number two, Ayman al-Zawahiri, led the US to Bin Laden in order to place the terrorist group under Egyptian cotrol. "Egyptians have wanted to control the organisation since its inception," an unnamed source allegedly told Saudi newspaper al-Watan, "but found their best chance after Bin Laden became ill in mid-2004". It was Zawahiri and the leadership group, the source added, who then convinced Bin Laden to move to Abbottabad.
• Bin Laden knew where al-Qaida's secret nuclear bomb was kept, and was killed to prevent him from leaking its location. Barack Obama, rightwing commentator Glenn Beck argued, wants to keep its whereabouts out of public knowledge.
Source: The Glenn Beck Show
• The royal couple delayed their honeymoon to avoid a clash with the assassination. "Clearly," Professor Anthony Glees told a British tabloid, "wherever they would be going, they would be outside the ring of steel that the authorities could provide for them in the UK."
Source: Professor Anthony Glees, University of Buckingham
• Bin Laden died of natural causes in 2001. His list of ailments included: a lung condition, hepatitis C, diabetes, low blood pressure and a wound to the foot
Source: whatreallyhappened.com
• Barack Obama invented Bin Laden's death to boost his re-election campaign ahead of next year's election
Source: Fox News presenter Andrew Napolitano, via Media Matters for America
• Bin Laden is alive and being held in a secret location while the US interrogates him about al-Qaida's nuclear arsenal. "Is it possible that Osama bin Laden has been ghosted out of his compound, and we're seeing a show at this point?" asked the rightwing commentator Glenn Beck.
Source: The Glenn Beck Show
• Barack Obama timed the announcement so news of Bin Laden's death would nudge Donald Trump's Celebrity Apprentice off the air to punish the entrepreneur for his impudent birth certificate questions
Source: Live Science
• The deaths of Bin Laden and Adolf Hitler were both announced on 1 May, suggesting they were sacrificed by the Illuminati to mark the secret order's second holiest holiday.
Source: Mystery of the Iniquity
http://www.guardian.co.uk/world/2011/ma ... intcmp=239